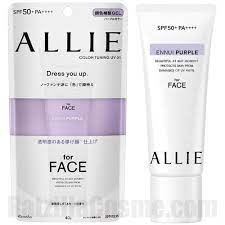 Purple's color complementing effect blurs dullness and pores to create a complexion with just sunscreen. UV cut gel for a clear and fragile face.
Hydrangea drop and sage scent to induce a clear mood
Technology that resists sebum stains
Makeup base effect
Does not stick to masks or towels.
Friction proof
Super water proof
Hyaluronic acid with beauty essence ingredient (moisturizer)
Paraben-free.
Can be removed with makeup cleanser

How to use

After preparing your skin with basic skin care products, carefully apply a small amount of the product from the center of your face to the outside, blending evenly. Do not use too much or you will not get the full effect of UV protection. For best results, reapply frequently after wiping off sweat. Do not apply directly to clothing or accessories. Allow to dry before wearing. Close the cap after use. ●Approximately 1.2cm in diameter for the entire face. How to remove ● Wash off carefully with your normal makeup cleanser.