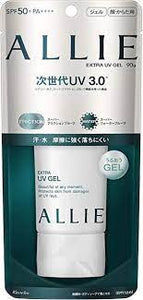 Fresh double proof gel that resists sweat, water, and friction.

Double proof gel with "super water proof" to resist sweat and water, and "friction proof" to resist friction and rubbing. It is a rich and comfortable gel with beauty essence ingredients that gently treats the whole body with a fresh feeling.

Friction Proof
Super Water Proof
ADVAN deep-damage UV barrier technology
Contains beauty essence*1 (moisturizing) ingredients
*Hyaluronic acid + collagen
Fragrance free
Paraben-free
Makeup base effect
For face and body

How to use

Apply a small amount to face and neck after preparing skin with basic cosmetics.
For the face and neck, apply a small amount of the product evenly and carefully.
Do not use too much or you will not get the full effect of UV protection.
For best results, reapply frequently (especially when wiping your skin with a towel).
Do not apply directly to clothing or accessories, and allow to dry before wearing.
Do not apply directly to clothing or accessories.
Approximate amount to use.
Use about 1.2 cm in diameter for entire face. Use enough for your body.
How to remove
Wash off carefully with your regular facial cleanser or body soap.