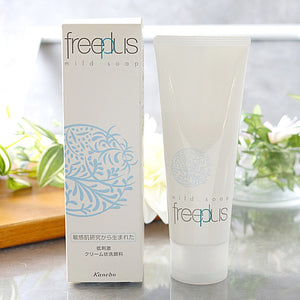 A soft, fluffy foam that washes away dirt and grime while protecting moisture, leaving your skin moist and soft.

A creamy cleanser with soft, weakly acidic foam that removes dirt while protecting moisture, leaving skin soft and moist.

The soft, weakly acidic lather envelops the skin and removes dirt and grime from the skin, leaving it moist and clean.
The moisturizing ingredients in the formula help to protect the skin's moisture, which tends to dry out and lead to a healthy stratum corneum.

Freeplus is a hypoallergenic skincare series that protects skin moisture and leads to fine silky skin.
We carefully select and use low-irritant materials that are easy on the skin.