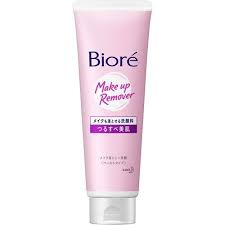 A paste-type cleanser with a creamy lather that removes makeup and cleanses the face at the same time.
It also removes sweat- and water-resistant foundations, sunscreens, and makeup bases in a single step.
Contains hyaluronic acid and royal jelly mix* (moisturizing ingredients) to protect the skin's moisture while washing, leaving it moist, soft, and smooth.
*Sorbitol, hyaluronic acid, royal jelly extract
No need to double wash your face.
Can be used even when hands and face are wet.
Can also be used as a facial cleanser on bare skin.
Refreshing orange floral scent.

How to use

Lather an appropriate amount (about 2cm) with water or hot water and rinse well. When makeup is difficult to remove, wash with a larger amount.
When there is not much left, remove the cap by turning it.