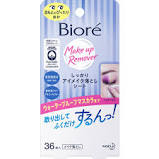 A sheet-type eye makeup remover that easily removes even waterproof mascara by simply wiping it off, without putting any strain on the eye area.
Plenty of liquid spreads between and at the base of lashes to remove even hard-to-remove mascara and eyeliner without rubbing.
Just take it out and wipe it on! Easy makeup removal even on busy days.
Contains hyaluronic acid (moisturizing ingredient).
Fits perfectly around the eyes. 100% natural cotton sheet with no bruising fibers.

Colorless, alcohol-free, and allergy-tested (not all people are allergy-free).

How to use

With eyes closed, apply the sheet to mascara and other eye makeup for 5 to 6 seconds to blend the liquid into the makeup, then gently wipe off.
Gently wipe away makeup.
Use with clean hands.
Do not rub the area around the eyes.
To prevent deterioration of quality due to dryness, close the seal tightly after use.

Ingredients

Water, isododecane, BG, PPG-9 diglyceryl, dicaprylyl ether, sodium hyaluronate, hydroxyethyl cellulose, (acrylate/alkyl acrylate (C10-30)) crosspolymer, K hydroxide, PEG-12 laurate, phenoxyethanol, methylparaben, fragrance.

Precautions for use

Do not use on wounds, rashes, or other skin problems.
Do not use on wounds, rashes, or other skin problems. Do not use on wounds, exfoliations, eczema, or other skin problems. ●When the product does not agree with your skin, or if it causes redness, swelling, itching, irritation, loss of color (such as white spots), or darkening, or if it causes similar problems when exposed to direct sunlight, discontinue use and consult a dermatologist. If any of these symptoms occur, discontinue use and consult a dermatologist. ● Symptoms may worsen with continued use.
If it gets into your eyes, or if you notice any abnormalities (such as blurred vision), rinse thoroughly immediately without rubbing. If any abnormalities persist, consult an ophthalmologist.
Remove contact lenses before use.
Do not wipe washbasins, furniture, etc., or leave sheets unattended after use.
Do not flush the sheet down the toilet.
Do not flush down the toilet. ●Do not expose to high temperatures or direct sunlight.