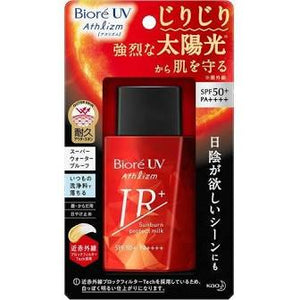 light protects the skin from intense sunlight*1.
Highest class UV protection
This is the highest class of UV protection in the Biore UV series in terms of UV protection (SPF50+PA++++) and the resistance of the coating film to fall off in hot and humid environments.
Resistant to perspiration and rubbing.
Removes with regular cleanser.
Skin feels smooth and silky.
Whitish and bright finish.

How to use

Shake well until it clicks, then apply a small amount evenly to the skin. Do not apply too little or you will not get the full effect of sunscreen. To maintain the effect, reapply frequently after wiping off sweat.
When removing, wash well with your usual cleanser (face wash, makeup remover, etc. for face, full body cleanser for body, etc.). If it is difficult to remove, apply the cleanser to a cotton pad or towel and wipe off.

Cautions for use

Do not use if you have sensitive skin.
Do not use immediately after hair removal or on skin with scars, rashes, or other skin problems.
Do not use immediately after hair removal. If the product does not agree with your skin, or if it causes redness, swelling, itching, irritation, loss of color (such as white spots), or darkening of the skin during use, or if it causes similar problems when exposed to direct sunlight, discontinue use and consult a dermatologist. If you experience any of these symptoms, discontinue use and consult a dermatologist. Symptoms may worsen with continued use.
If it gets into your eyes, rinse immediately and thoroughly.
Avoid contact with clothing. If your skin rubs against clothing or car seats after application, it may leave a white residue on clothing.
If it gets on your clothes, wash them immediately with detergent. Do not use chlorine bleach as it may discolor the area.

Storage and Handling Precautions

Storage precautions
Do not store in high temperatures or in direct sunlight.
To prevent accidental ingestion by children or people with dementia, please be careful where you place the product.