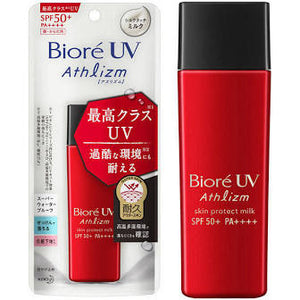 Resistant to sweat and water. Silk touch milk for smooth skin texture.
Equipped with our original "Tough Boost Tech". Resistant to sweat and abrasion.

SPF50+/PA++++
Super water proof.
Removable with soap.

How to use

Shake well and apply a small amount evenly to the skin.
A small amount will not provide sufficient sunscreen effect.
To maintain the effect, reapply frequently after wiping off sweat.
When removing, wash well with your regular cleanser (face wash, makeup remover, etc. for face, full body cleanser for body, etc.).
If it is difficult to remove, wash twice carefully.