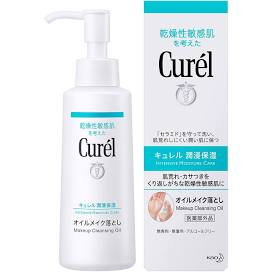 This product protects and cleanses ceramide, an essential ingredient for healthy skin, and keeps your skin moisturized and resistant to skin irritation.
Quickly removes even hard-to-remove makeup without rubbing the skin. Cleanses even waterproof mascara.
Oil dissolves easily in water. The smooth emulsifying formula can be rinsed off without repeated rubbing.
Prevents dryness and leaves skin moisturized after washing.
Contains an anti-inflammatory agent (active ingredient). Prevents skin irritation.
Quasi-drug product

Trade Name】CureL Makeup Remover C

How to use
Apply a small amount (about 4 pumps) to dry hands and gently blend into makeup.
Rinse well with water or lukewarm water.
If your hands or face are wet, wipe off the water lightly before use.
If you are using contact lenses, remove them before use.
Wash your face with a cleanser after use.
For washing your face, we recommend Curél Foaming Face Cleanser.
Please note that the package and contents are subject to change without notice. Please be forewarned.