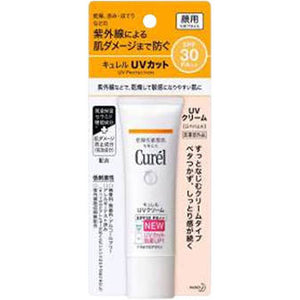 Prevents skin damage caused by UV rays (dryness, redness and burning).
Cream type that blends in easily. Does not leave a sticky residue, but keeps the skin moist.
Can also be used as a makeup base.
Contains moisturizing ingredients (moisturizing ceramide function ingredient, eucalyptus extract, and asnaro extract).
Contains plant-derived skin damage-preventing ingredients (active ingredients).

SPF30/PA++
For face

Recommended amount per use: Approx. 1.5cm in diameter
Approximate time to use: 2 months.

Sunscreen

30g

Ingredients ・ Raw materials

Stearyl glycyrrhetinate*, purified water, cyclodimethicone, glycerin, low-temperature calcined Zn oxide, Zn oxide, asnaro extract, POE-dimethicone copolymer, dimethicone, hexadecyloxy PG hydroxyethyl hexadecanamide, neopentyl glycol dicaprate, BG, methylhydrogen polysiloxane, silicone-coated Zn oxide Methyl Hydrogen Polysiloxane, Silicone-coated Zinc Oxide (S), Mg Sulfate, Long Chain Dibasic Acid Bis 3-Methoxypropylamide, Eucalyptus Extract, Dimethyl Siloxane Methyl (Undecyl Glyceryl Ether) Siloxane Copolymer, Dextrin Palmitate
* denotes "active ingredients"; absence denotes "other ingredients

Precautions for use

Do not use if you have wounds, rashes, or other skin problems.
Do not use on wounds, rashes, or other skin conditions. ●Use with caution to avoid skin irritation. If the product does not agree with your skin, or if it causes redness, swelling, itching, irritation, loss of color (such as white spots), or darkening during use, or if it causes similar problems when exposed to direct sunlight, discontinue use and consult a dermatologist. If any of these symptoms occur, discontinue use and consult a dermatologist.
If it gets into your eyes, rinse immediately and thoroughly. If any abnormalities persist, consult an ophthalmologist.
In order to prevent accidental ingestion by children or people with dementia, be careful where you place the product.