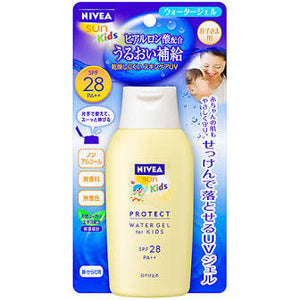 A non-alcoholic UV gel that gently protects your child's dry skin from UV rays.
It glides on smoothly without stickiness and is gentle to the skin.
Helps prevent dryness caused by UV rays and maintains moisture.
Can also be used as a base for makeup.
No need for special cleansing.
Can be removed with your usual soap, cleanser, or washing powder.
(This product is not water-proof.)

SPF28/PA++.
Non-alcohol, fragrance-free, colorant-free.
For face and body
Sunscreen
Sunscreen] 120g

For face and body
Apply an appropriate amount to your hands and spread evenly over your skin.
If the amount is too small, the sunscreen effect will be difficult to obtain. For best results, apply a sufficient amount and reapply frequently. Reapply after perspiring or wiping with a towel.
When removing the product, wash it well with your regular soap and cleaning products.