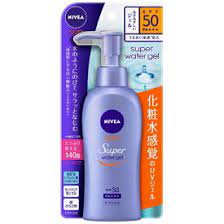 Sunscreen (for body) NIVEA
Bare skin skincare UV gel. Protects against UV rays and is gentle on bare skin (SPF50/PA+++). Moisturizes the skin to prevent dryness. Skin care UV gel with 75% watery base*. This fresh gel spreads like water and blends smoothly. Easy to apply. Can be removed with your usual soap or cleanser. For face and body. Can also be used as a base for makeup. Mineral oil free, synthetic fragrance free, and synthetic colorant free. Water (base)

How to use

Remove the translucent stopper from the pump at the beginning of use and press the pump several times until the contents are released.
Apply an appropriate amount to your hands and spread evenly over your skin.
If the amount is too small, the sunscreen effect will be difficult to achieve. For best results, apply a sufficient amount and reapply frequently. Reapply after sweating or wiping with a towel.
When removing, wash well with your regular soap or cleanser.