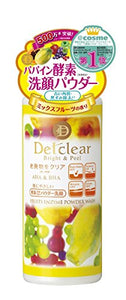 Thoroughly removes dark spots, dullness, and roughness by exfoliation!
The following are the effects of using DET Clear series!

Remove blackheads from pores
Smooth skin by removing roughness
Improves skin tone.
Improves the penetration of the lotion used afterward
Normalizes turnover.

With the power of natural fruits, you can experience new skin every day.


Contains natural papain enzyme to remove dead skin cells and blackheads that cause sebum clogging in pores. The fine and elastic foam created from powdered powder and water gently cleanses the face without damaging the skin. Contains fruit AHA and plant BHA, common ingredients in the series, for gentle home peeling of the skin. Alcohol-free, petroleum surfactant-free, mineral oil-free, and colorant-free. Home peeling with a soothing mixed fruit scent.