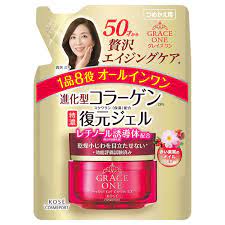 This is a refill.

From the age of 50, to plumper, firmer, more lustrous skin!
An all-in-one gel that concentrates beauty effects and plays eight roles in one product.

Contains advanced collagen CPX and retinol derivatives!
This product delivers a wealth of beauty ingredients necessary for aging care to your skin, leading to more moisturized, supple and lustrous skin.

Eight functions in one product! A restorative all-in-one gel that helps prevent dryness and fine wrinkles.
This restorative gel melts into the skin as soon as it is applied, sealing in moisture.
It is an all-in-one product that completes your skincare routine.

It has passed the "efficacy evaluation test". Diminishes the appearance of dryness and wrinkles.
This product has passed the efficacy evaluation test based on the Guidelines for Anti-Wrinkle Product Evaluation Test.
Diminishes the appearance of fine lines and wrinkles caused by dryness.