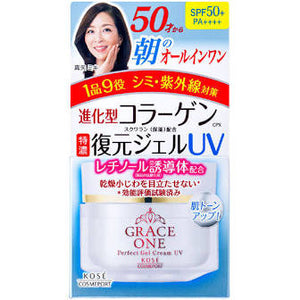 Morning skincare and UV care complete in one product!
This is an all-in-one gel UV product that restores your skin to its former glory.

The SPF50+ PA++++ UV protection forms a dense veil to powerfully cut UV rays during the day!
The restorative gel, rich in beautiful ingredients, melts into the skin and penetrates deep into the stratum corneum.

Passes efficacy evaluation test! Diminishes the appearance of dry fine lines and wrinkles.
This product has been tested for efficacy based on the Guidelines for Anti-Wrinkle Product Evaluation and Testing.
Diminishes the appearance of fine lines and wrinkles caused by dryness.