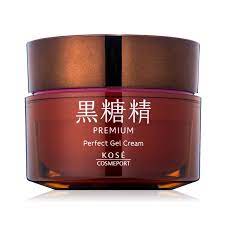 All-in-one gel with ultra-thick moisturizer.

The rich gel-cream blends into the skin, filling it with rich moisture.

Seven functions in one product
Lotion + Emulsion + Essence + Cream + Beauty Oil + Pack + Massage

With the power of brown sugar fermented extracts and selected oils, you will feel soft skin the next morning.
Contains a high concentration of brown sugar fermented extract. The high concentration of brown sugar fermentation extracts helps to store moisture deep inside the skin, leading to trouble-free skin.
Carefully selected oils instantly seal in rich moisture, so you can feel your skin never dry out.

Selected botanical oils: wheatgrass oil, tea seed oil, brown rice embryo bud oil, safflower oil, egoma oil

Contains beauty essence capsules.
When massaged into the skin, the serum capsule will break down.
The oil and other beauty ingredients will slowly penetrate the skin, leaving it moisturized for a long time.

How to use

After cleansing, dispense a small amount (about 2 to 3 pearls) onto your fingertips and apply to five areas: chin, cheeks, nose, and forehead.
If you are concerned about dryness, use a generous amount as a massage or pack.
It can also be used with other skincare items.