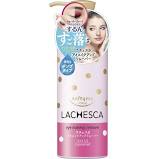 For solid eye makeup and tinted lips!
Even point makeup blends in smoothly! It blends in with point makeup.

A non-greasy remover that is easy to use.
It also removes makeup around the eyes and mouth with ease.

Contains ingredients to moisturize the eye area.
Hyaluronic acid and BG (moisturizing)

Contains ingredients to protect and emollient eyelashes.
Vitamin B derivative, Vitamin E derivative, Jojoba oil

Free formula to care for the skin.
Fragrance-free, colorant-free, mineral oil-free, alcohol (ethyl alcohol) free.

How to use

Apply a small amount to a cotton pad, blend with eye makeup or lipstick, and wipe gently.
When removing mascara, close your eyes and hold the cotton pad against your lashes for a few seconds, then pinch your lashes together to blend the liquid. Afterward, gently wipe off the lashes without rubbing hard or pulling.