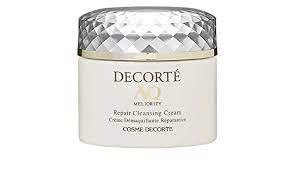 Cleansing cream with a mild touch that envelops the skin, dissolves makeup and sebum and leads to radiant skin.
The rich cream glides on smoothly and quickly removes even-point makeup.
Contains emollients and double peptides (moisturizing).
Light floral powdery type with natural fragrance extracted from freshly picked plants.

How to use

Apply a cherry-sized amount to your fingertips and apply to your chin, cheeks, nose, and forehead.
Spread over face, blending well with foundation and other make-up.
Then, carefully wipe off with tissue paper, being careful not to rub your skin too hard.
You can also wash it off. You can also wash it off.

Cautions for use

Use caution to avoid skin irritation. Do not use on areas with scars, rashes, or other skin problems. If cosmetics do not agree with your skin, use caution in the following cases.
(1) If redness, swelling, itching, irritation, loss of color (such as white spots), or darkening occurs during use.
(2) If any of the above-mentioned abnormalities appear on the skin exposed to direct sunlight.

Continued use of cosmetics may aggravate the symptoms, so it is recommended to consult a dermatologist or other health care professional.

I want to know more about the product.