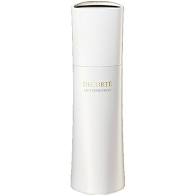 An elasticity-boosting emulsion that gives you supple, firm and toned skin. It blends into skin that has become hard due to age and daily stress, and softens and loosens the skin deep into the stratum corneum. In the blink of an eye, every grain of the skin becomes radiant. It nurtures upward elasticity and resilience, leaving your skin mildly moisturized and full of life. Keeps your skin looking plump and bouncy. Green floral powdery scent.

Directions for use

Apply in the morning or evening before toner.
Press the pump twice onto a cotton pad and blend into skin.