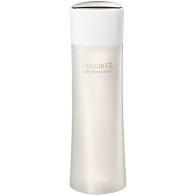 A firmness-infusing lotion that densely fills the skin with moisture. A unique delivery capsule is used to enhance skin blending. With its excellent penetration into the stratum corneum, it instantly makes dry skin look fresh and supple by delivering the beauty ingredients. Each texture is moisturized, and the skin becomes firm, three-dimensional, and full of elasticity. It gives the skin an upward elasticity that absorbs into the palm of your hand. Green floral powdery scent.

How to use

Apply morning and evening after toning skin with emulsion.
Apply a small amount to a cotton pad and pat into skin.