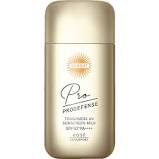 High adhesion toughness guard technology makes it most resistant to water and rubbing.

SPF50+/PA++++] sun damage defense formula makes your skin beautiful for the future.
The strongest UV milk in the history of Sunkat®, resistant to rubbing and movement.
Newly developed high-adhesion full-block technology protects against sunburn even in extreme sweat situations.

How to use

Shake well and spread a generous amount evenly.
For face, use at the end of your morning skincare routine. For the body, apply directly from the container to the skin in a circular motion. If the amount used is too small, it will not provide sufficient UV protection.
When removing, wash carefully with a cleanser.