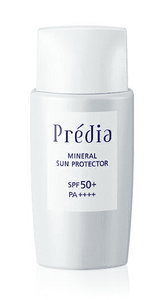 SPF50+/PA++++

This product is ideal for daily use, leisure, sports, etc. It is a sunscreen emulsion that protects the skin from strong ultraviolet A and B waves, preventing damage and keeping the skin clear and translucent.
It has a refreshing feel that spreads comfortably on the face and body. It does not leave a sticky or white residue, and leaves the skin feeling silky smooth.
It prevents sun spots and freckles, while providing plenty of moisture to prevent skin irritation and dryness during the day.
It is water-proof and resistant to sweat, water, and sebum, but can be removed smoothly without feeling overwhelmed.
It can also be used as a makeup base.