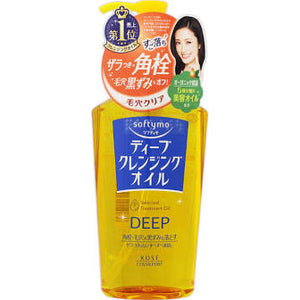 Removes even hard-to-remove make-up with ease. Contains mascara clearing ingredients to remove even waterproof mascara without rubbing!
Quickly rinses off to leave your skin feeling smooth and refreshed.
Removes makeup and rough keratin*.
Makeup and rough keratin* are removed, leaving your skin clean and pore-free. Quickly rinses off without leaving a sticky residue.
Contains 5 kinds of luxurious beauty oils

Contains keratin-clearing ingredients: macadamia nut oil and comenuka oil.

Removes stubborn keratin plugs and rough pores, leaving your skin clean and shiny. Leaves skin feeling moisturized and refreshed.