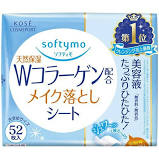 Just wipe it off to remove makeup and dirt from your skin! This make-up remover sheet will soften your skin and make it look radiant and vibrant.

The sheet removes makeup with just a gentle stroke.
The cleansing liquid rich in serum spreads out and gently removes makeup without rubbing. No need to rinse off.

The newly developed sheet gently removes makeup.
Three types of microfiber sheets are used, and the three-layered structure releases a rich cleansing liquid to remove makeup smoothly.

The sheet is made of three types of microfibers.
The sheet contains 3 layers of cleansing liquid to remove makeup smoothly.
Contains W collagen and BG (moisturizing ingredients) / Fragrance free / Colorant free / Slightly acidic

A sheet of cleansing liquid filled with beauty essence spreads over the skin and gently wipes off makeup and dirt. It softens the skin and makes it look fresh and vibrant. This product is also available as a refill.