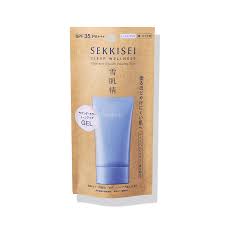 A lavender-colored UV gel that naturally covers dullness and gives a soft, bright transparency. A lavender-colored tone-enhancing UV gel.

The more you apply, the less you burn. The more you apply, the more resistant your skin will be to burning. The more you apply, the more your skin resists burning. This tone-up*1 UV gel protects your skin from the elements.

It contains lavender color ingredients that give a sense of blood color and transparency, and brightening powder that creates a sense of lightness. It naturally covers dullness and gives a brighter, more translucent finish.

Contains damage*2 resisting ingredients. Contains naturally derived ingredients to prevent UV damage.

With 84%*3 of ITOWA's beauty essence, it fills the entire stratum corneum with moisture and improves the quantity and quality of the moisture barrier, leading to healthy skin without irritation or dryness.

In addition to UV rays, it also protects the skin from dryness and airborne particles (dust, dirt, pollen, etc.).

Protects skin from strong UV rays and prevents sun spots and freckles.

It can be used as a base for makeup.

Easy to remove. It can be removed with your regular facial cleanser or body soap.

It has a clear scent that evokes the breath of nature.

UV absorber free / Paraben free

Allergy tested / Patch tested / Stinging (skin irritation) tested (This does not mean that allergy or skin irritation will not occur in all users. For face and body

For face and body

How to use

Apply a generous amount evenly.

For face, apply at the end of morning skincare routine.

For the face, use at the end of your morning skincare routine. For the body, dispense a small amount directly from the container onto the skin and spread evenly in a circular motion with the palm of your hand.