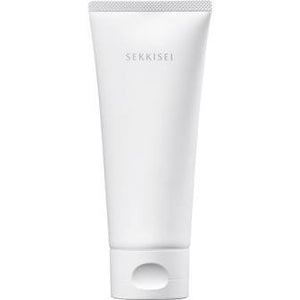 A hypoallergenic cleansing gel that turns from a gel to a smooth oil.
A hypoallergenic cleansing gel.
Gently removes makeup for clearer skin.
Contains the blessings of nature nurtured by the beautiful earth. This fresh, hypoallergenic cleansing gel removes not only makeup but also dullness* and dirt from deep within pores without feeling overwhelming.
The gel, which has both freshness and cushioning properties, transforms into a smooth oil on the skin. The formula focuses on the skin burden caused by excessive friction during cleansing and provides both a gentle feel on the skin and a cleansing oil-like removal.
When it senses makeup dirt, the oil pops out of the capsule and quickly engulfs the dirt, dissolving the dirt that tends to clog the pores as well as between the skin's texture.
Contains ITOWA, a unique ingredient derived from the great outdoors of Japan. By increasing the quantity and quality of the moisture barrier, it prevents skin irritation and keeps the skin healthy and resistant to environmental troubles.
Alcohol (ethyl alcohol) free / Paraben (preservative) free / Mineral oil free / Fragrance free / Colorant free
Allergy tested / Patch tested / Stinging (skin irritation) tested (This does not mean that allergy or skin irritation does not occur in all people.
Depends on dead skin cells.

How to use

Apply a small amount to dry hands and blend with foundation and other makeup using fingertips, then rinse off.

Ingredients ・ Raw materials

Astragalus membranaceus seed extract, chamomile flower extract, glycerin (moisturizer)

Itowa is composed of Ghetto Bee Leaf Extract, Peony Flower Extract, Noni Fruit Juice, and Glycerin.