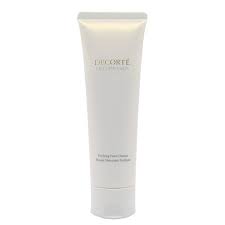 A dullness purifying face cream that cleanses with a fine, dense foam. Contains a luxurious amount of phospholipids, a moisturizing ingredient. Even skin that has been damaged by UV rays will feel moisturized after washing. It lightly removes dirt, roughness, and dead skin cells including melanin, which can lead to dullness, and brings clarity and transparency. A fine, dense lather is quickly created, and with its excellent lather retention, you can wash your face comfortably without rubbing your skin. Green floral powdery scent.

Directions for use

Apply to face in the morning and evening.
Moisten palms and face with water or lukewarm water beforehand.
Apply about 2cm of the product to the palm of your hand, lather well with a little water or lukewarm water, and massage gently to cleanse your face.
Rinse thoroughly afterwards.