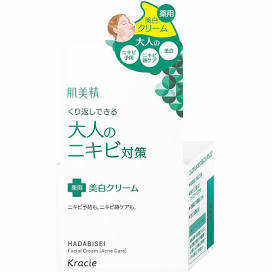 A medicated skin whitening cream that prevents recurring adult acne, while also caring for acne scars and keratin. It leads to smooth skin with moisture and no uneven marks. It is a finishing cream with a fresh feel that also provides whitening care. Contains disinfectant (isopropyl methyl phenol), anti-inflammatory (glycyrrhizinic acid 2K), whitening active ingredient (high-purity vitamin C), moisturizing ingredient (collagen), skin conditioning ingredients (hops extract, osmanthus extract, oolong tea extract), and keratin softening ingredient (lemon extract). Non-comedogenic tested, allergy tested.
Classification: Quasi-drugs

Directions for use

After toning, apply an appropriate amount (pearl size) to the face.
If you wish to add milky lotion or essence, use the cream last.
Recommended for morning and evening use.