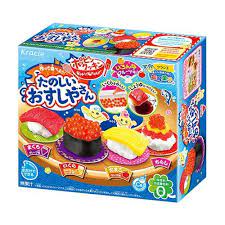 This is a candy kit that allows you to make lifelike sushi (grape flavor) with flour, water, and candy.
You can also make soy sauce! Download the paper craft from the website for more fun!

Ingredients

Allergens (Mandatory and Recommended)
Milk, squid, gelatin

This product is manufactured in a facility that uses wheat and eggs.

Nutritional Information

Per serving (28.5g) [Calorific value 110kcal / Protein 0.1g / Fat 0.4g / Carbohydrate 27g / Salt equivalent 0.08g / Calcium 191mg].