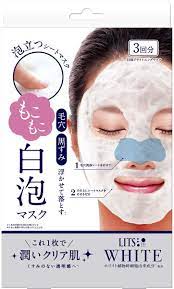 The moment you put it on your face, rich, dense foam gently foams.
It penetrates deep into pores and cleanses makeup that tends to remain, leaving your skin moisturized and clear.

How to use

After cleansing, lightly wipe off any moisture from your face and hands. It is easier to apply the pore cleansing sheet to your nose when it is slightly wet.
Remove the pore cleansing sheet (partial mask) from the top of the bag, place the peeled side on your nose, and gently press down along your nose.
Take out the sheet mask from the bottom of the bag, and place it over your face in line with your eyes and mouth. After a while, bubbles will start to form.
Leave it on for about 10-15 minutes. When you peel off the sheet mask, the pore cleansing sheet will be soft and melted. Gently rinse off the remaining pore cleansing sheet and foam with water or lukewarm water.