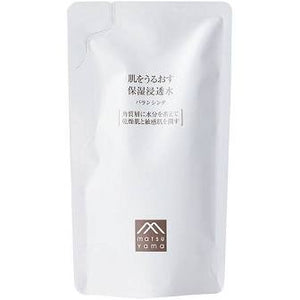 A moisturizing lotion that quickly penetrates the stratum corneum and replenishes moisture. It contains soy-derived ingredients and five types of ceramides that regulate the function of the stratum corneum, as well as inositol, a rice-derived moisturizing ingredient that regulates the balance of moisture and oil, leaving skin fresh and hydrated. Recommended for those who are concerned about sticky skin in the T-zone. Contains no alcohol (ethanol), paraben, fragrance, colorant, or mineral oil.

Ingredients ・ Raw materials

Water, BG, glycerin, 1,2-hexanediol, soybean seed extract, soybean fermentation extract, hydrolyzed soybean protein, soybean sterol, ceramide 1, ceramide 2, ceramide 3, ceramide 5, ceramide 6Ⅱ, inositol, sodium hyaluronate, rice bran extract, allantoin, trehalose, hydrogenated lecithin Trehalose, hydrogenated lecithin, xanthan gum, citric acid, sodium citrate

Precautions for use

Cautions for refilling
Wash the container, cap, and stopper thoroughly, and dry them completely before refilling.
Wash container, cap, and stopper thoroughly and dry completely before refilling.

Cautions for use
Do not use if you have any skin problems or if the product does not agree with your skin.
If it gets into your eyes, rinse immediately with running water.