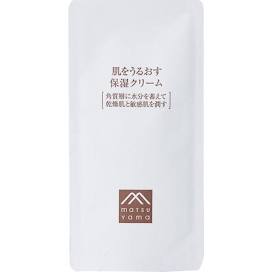 A moisturizing cream with a rich, thick texture that keeps the skin hydrated. It contains soybean-derived ingredients that regulate the condition of the stratum corneum, five types of ceramides that supplement the barrier function, and shea oil, an emollient ingredient. Prevents the evaporation of moisture and makes the skin soft and supple. Contains no alcohol (ethanol), paraben, fragrance, colorant, or mineral oil.

Ingredients ・ Raw materials

Water, glycerin, BG, squalane, triethylhexanoate, shea butter, behenyl alcohol, sucrose stearate, soybean seed extract, hydrolyzed soybean protein, soybean oil, soybean sterol, ceramide 1, ceramide 2, ceramide 3, ceramide 5, ceramide 6II, carnauba wax Polyglyceryl pentastearate 10, Di(phytosteryl/octyldodecyl) lauroyl glutamate, Sodium stearoyl lactylate, Hydrogenated lecithin, Carrot root extract, Tocopherol, Arginine, Carbomer, Ethylhexylglycerin

Precautions for use

Cautions for refilling
Wash the container, cap, and stopper thoroughly, and dry them completely before refilling. ●Wash container, cap, and stopper thoroughly and dry completely before refilling.

Precautions for use
This product may not cause allergies or skin irritation in all people.
Do not use if you have any skin problems. Do not use this product if you have any skin problems or if it does not suit your skin. Do not use if your skin is irritated or uncomfortable, and consult a dermatologist for further advice.
Store away from direct sunlight, high temperature, low humidity, and use as soon as possible.