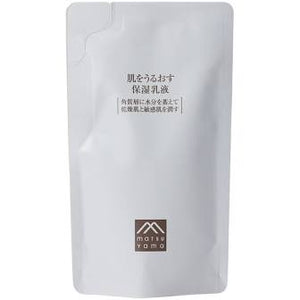 A milky lotion that protects moisture in the stratum corneum and maintains hydration. It contains soy-derived moisturizing ingredients, five types of ceramides, and squalane, which gives skin flexibility. It blends well with the skin and maintains a good balance of moisture and oil, leading to plump and smooth skin. Alcohol (ethanol), paraben, fragrance, colorant, and mineral oil-free.

Ingredients ・ Raw materials

Water, BG, tri(caprylic/capric) glyceryl, glycerin, glyceryl stearate, sucrose stearate, soybean seed extract, soybean fermentation extract, soybean sterol, soybean oil, ceramide 1, ceramide 2, ceramide 3, ceramide 5, ceramide 6II, squalane, shea oil, hydrogenated lecithin, ethyl heparin Hydrogenated lecithin, ethylhexylglycerin, PG stearate, behenyl alcohol, butyl alcohol, carbomer, tocopherol, arginine

Precautions for use

Cautions for refilling
Wash the container, cap, and stopper thoroughly, and dry them completely before refilling. ●Wash container, cap, and stopper thoroughly and dry completely before refilling.

Cautions for use
If you rub it on the nail enamel, the surface may peel off slightly. Please be careful.