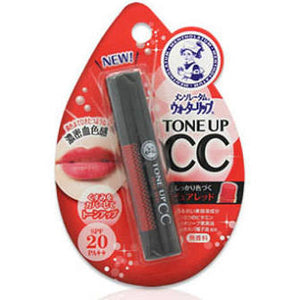 The rich cosmetic ingredients moisturize your lips, while the tone-up pearl corrects the color and gives a soft reddish blood color that blends in with your skin tone without floating. A tone-up color with a dense blood tone reflects the entire skin tone from the lips. 4.5g

Mentholatum Water Lip Tone Up CC Pure Red is a color lip cream that corrects dullness, blood color, and shines with its rich beauty essence* that moisturizes the lips and gives them a soft reddish color. It gives a dense blood color feeling that tones up your lips and complexion.
Contains tone-up pearls (gloss agents)
Synthetic gold mica, titanium dioxide
Protects lips from UV rays
SPF20 PA++.
Fragrance-free type

Contains three vitamins (vitamin C derivative, vitamin E derivative, and vitamin E derivative), olive fruit oil, and jojoba seed oil.

How to use

Apply two to three light layers to lips.