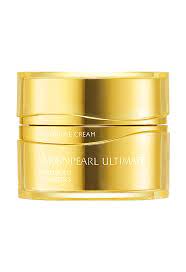 To the skin. Beautiful status.
The beauty of shining pearls.
As the culmination of many years of pearl research, this is the pinnacle* of high-performance creams, created with a focus on skin structure.
From the moment it is blended into the skin, it envelops the skin in soft moisture, providing a luxurious feeling that soaks into the soul.
It supports the rebirth of the skin and aims to nurture the skin's structure.
It supports the skin's rebirth and nurtures the skin's structure, leading to supple, supple, radiant, transparent, and pink pearly skin.

How to use

At the end of your nighttime routine, use a spatula to dispense an appropriate amount of the product and carefully apply it to your face.
1) Using the spatula, place a pearl-sized amount on the back of your hand.
Apply to five areas of the face (chin, cheeks, forehead, and nose) with fingertips.
Gently blend with both hands.