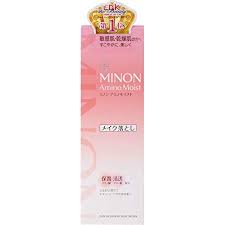 Minon Amino Moist Milky Cleansing is a gentle cleansing cream that contains 9 moisturizing amino acids and 2 clearing amino acids.

It is easy to rinse off and removes makeup and dirt from pores. It also moisturizes and conditions the skin to make it smooth, supple, and radiant.
Fragrance-free, colorant-free, and mildly acidic. Alcohol-free. Paraben-free.
Allergy-tested (patch-tested). Allergy tested.
Allergy tested (patch tested). Allergy tested.
1 Not all users are allergic to this product.
2 This product is not suitable for all skin types.

If you have any questions about this product, please contact

Distributor Daiichi Sankyo Healthcare Co.
Customer Service Center Toll-free: 0120-337-336
Hours: 9:00-17:00 (except Saturdays, Sundays, and national holidays)

Directions for use

Without wetting your face, dispense an appropriate amount (about a 2cm diameter circle) onto your dry palm and gently roll it over your skin to blend with dirt. Then, rinse thoroughly with lukewarm water.
Use a facial cleanser after cleansing.
This is not an oil-free formula.
Precautions for use

Please read the instruction manual carefully before use.
Please read the instructions carefully before using this product. Use with caution to avoid skin problems. If this product does not suit your skin, please stop using it. If you continue to use this product, it may aggravate your condition and you are advised to consult a dermatologist.
(1) If redness, swelling, itching, irritation, loss of color (white spots, etc.), or darkening occurs during use.
(2) If the skin exposed to direct sunlight shows any of the above symptoms.
Do not use if you have scars, rashes, rashes, or any other skin problems.
Do not use on wounds, rashes, or other skin irritations. - If you have sensitive skin, apply a small amount to the inside of your arm and make sure it does not cause redness or itching.
Avoid contact with eyes. If it gets into your eyes, rinse immediately with water or lukewarm water.
Keep out of the reach of infants.
Do not store in extremely high or low temperatures or in direct sunlight.