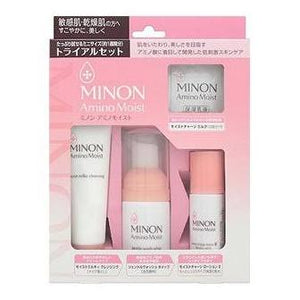 Minon Amino Moist Basic Moist Set is a hypoallergenic skin care product designed for people who want to give their skin the proper amount of moisture and want more than just gentle care.
Minon Amino Moist Basic Moisturizing Set
Minon Amino Moist Basic Moisture Set supports barrier function to protect skin from external stimuli, and supports texture, firmness, and glow that you can see and feel.
Minon Amino Moist is a mini-size product.

Minon Amino Moist Trial Set is a trial set of makeup remover, foaming cleanser, moisturizing lotion, and moisturizing milky lotion (for 2 times) containing 9 moisturizing amino acids and 2 clearing amino acids. This hypoallergenic skincare set was developed with a focus on amino acids to care for and beautify the skin.
Fragrance-free, colorant-free, and mildly acidic. Alcohol-free. Paraben-free.
Allergy-tested (patch-tested). Allergy tested.
Allergy tested (patch tested). Allergy tested.
1 Not all users are allergic to this product.
2 This product may not be suitable for all skin types.
Set includes 20g makeup remover, 25ml foam cleanser, 20ml moisturizing lotion, 0.5g moisturizing emulsion x 2 packets.

How to use

Minon Amino Moist Moist Milky Cleansing (Makeup Remover)
Apply a small amount of the cleanser to your dry palm and gently roll it over your skin to blend with dirt and grime. Rinse thoroughly with lukewarm water.
Minon Amino Moist Gentle Wash Whip (Foaming Cleanser)
Wet your face and dispense a small amount (2-3 pushes) onto your clean palm and spread the foam over your face. Rinse thoroughly with water or lukewarm water.
Press the pump a few times until it starts to foam.
Minon Amino Moist Moist Charge Lotion II (More Moist Type) (Moisturizing Lotion)
After cleansing your face, dispense an appropriate amount (the size of a hundred-yen coin) onto your clean palm and gently apply to your face.
Minon Amino Moist Moist Charge Milk (Moisturizing Emulsion)
After toning and conditioning your skin, dispense a small amount of the product onto the palm of your hand and gently blend over your face.