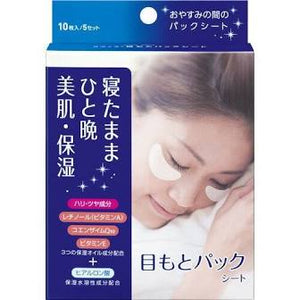 RAVIS Eye Pack Sheet 10 sheets is a beauty product that can be used to care for the eye area. It is made with a special adhesive and contains plenty of moisturizing ingredients. You can care for your eyes all day until morning without leaving the sheet.

It contains three moisturizing oil ingredients: coenzyme Q10, retinol palmitate (vitamin A), and tocopherol acetate (vitamin E), as well as hyaluronic acid, a water-soluble moisturizing ingredient. It is a vitamin pack that penetrates deep into the stratum corneum.

RAVIS Eye Pack Sheet 10 sheets are a special pack for the eye area that allows moisturizing ingredients to penetrate deep into the stratum corneum of the eye area while you sleep. The sheets are gentle to the skin and hypoallergenic, but have amazing adhesive strength. Plenty of moisturizing oil ingredients blend with the skin and penetrate deep into the stratum corneum. The sheet is light and does not peel off easily, so it does not bother you when you are sleeping or doing housework. Contains hyaluronic acid, vitamins A and E, and CoQ10.

How to use

Peel off the release paper and apply to the area to be protected.

Ingredients

Vitamin A (retinol palmitate), vitamin E (tocopherol acetate), CoQ10 (ubiquinone), hyaluronic acid (sodium hyaluronate)

Storage and Handling Precautions

Please follow the instructions for use as specified.
Wipe off the area near the application area (the area where the adhesive touches) before use. (Moisture, creams, chemicals, dirt, etc. may damage the adhesive.)
If any symptoms such as rash, redness, or itching occur during use, discontinue use and consult a doctor or pharmacist.
If the pad is left wet or dirty, the wound will not heal properly, so please replace it frequently.

Storage and handling precautions
Keep out of the reach of children.
Keep out of reach of children. ・Store away from high temperature and high humidity, and out of direct sunlight.