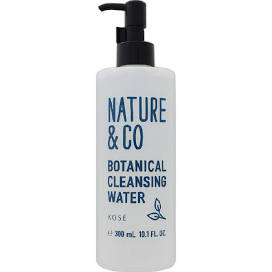 Contains three carefully selected botanical oils.
Just wipe off with a cotton pad to quickly and easily remove makeup and dullness, leaving your skin fresh, moist, and bright.

This cleansing water is designed for wiping off makeup quickly and easily by simply wiping with a cotton pad. The cleansing water is non-greasy and removes makeup and dullness, while the three botanical oils help to keep your skin fresh, moist, and bright.
No need to rinse.
A relaxing herbal green scent that makes you want to take a deep breath. The natural and refreshing scent will help you relax your mind and body.

How to use

Press the pump three times to fill a cotton pad. Blend well with makeup and wipe off carefully.
After wiping, replace the cotton pad and repeat until no more dirt remains.
Do not use a cleanser afterward, but you can use a facial cleanser if you prefer.