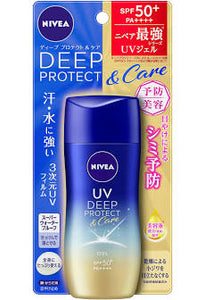 SPF50+/PA++++. SPF50+/PA. 
Beauty care UV that provides preventive beauty care (prevents sun spots and freckles). Contains beauty care ingredients (moisturizing): gold and silver flower extracts*, pearl protein extracts*, damask rose water, and BG. diminishes fine lines and wrinkles caused by dryness* (*efficacy evaluation test conducted). Can be used generously on the whole body. Hydrolyzed Conchiolin

Ingredients / Raw materials

Apply an appropriate amount to your hands and spread evenly over your skin. Do not apply directly to clothing, allow to dry before wearing. If the amount is too small, the sunscreen effect will be difficult to achieve. For best results, apply a sufficient amount and reapply frequently. Reapply after sweating or wiping with a towel. When removing, wash well with your usual soap, facial cleanser, or body wash.