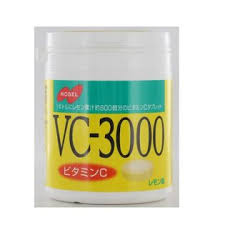 The VC-3000 tablet is now available in a bottle form, with the vitamin C equivalent of 600 lemon juices in one bottle.
It comes in a bottle type container that can be left at home, in the office, or in the car.
One tablet (1.5g) contains the vitamin C equivalent to the juice of about 6 lemons (about 120mg).
Ingredients: Sugar, syrup, vitamin C, acidulant, sucrose ester, flavoring, safflower xanthanide.