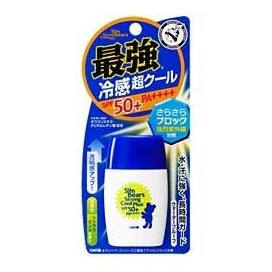 A sunscreen emulsion (for face and body) that guards against even the strongest UV rays.
Water-proof type protects against water and sweat for a long time.
Transparent type that leaves no white residue.
Contains fine powder for smoothness and comfort.
Colorless and lightly scented (citrus mint scent).

Thoroughly blocks intense UV rays.
SPF51+ PA++++ blocks strong sunlight with the highest level of UV protection in Japan.
Water proof
Protects against sweat, water, and sebum for long-lasting sunscreen protection.
Ideal for leisure and sports.
Smooth and transparent
Contains fine powder for a silky feel.
No residue.

How to use

Apply a small amount to the inside of the arm and make sure there are no abnormalities before use.
Shake well before spreading evenly over skin.
For best results, reapply frequently, even after wiping with a towel or swimming.
For best results, reapply frequently.
If it gets on your clothes, wash them immediately with detergent.