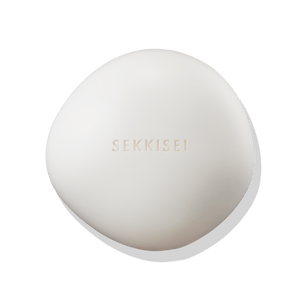 A luxurious, moisture-rich facial cleansing soap that foams up into a fluffy lather. It removes blackheads and dullness* from pores for clearer skin. The soap is made from natural ingredients grown on the beautiful earth.

This product is a concentrated form of nature's bounty nurtured by the beautiful earth. This facial soap creates a rich lather that cleanses the skin, leaving it clear and smooth.

It has a clear fragrance that evokes the breath of nature.

This soap has the best balance of clarity, dirt removal, and gentleness after washing.

The rich, moisturizing lather gently removes dullness* and dirt from deep within pores.

Contains ITOWA, a unique ingredient derived from the great outdoors of Japan. By increasing the quantity and quality of the moisture barrier, prevents skin irritation and keeps the skin healthy and resistant to environmental troubles.

Contains clarity-boosting ingredients. ●Contains "clarity-boosting ingredients" to accelerate transparency.

Removes even light make-up.

Free of parabens (preservatives).