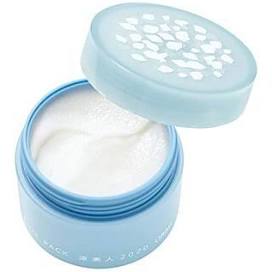 Popular every year! In response to requests from customers, KOHBIJIN has launched a new summer-only night time pack!
This cool pack with menthol(*) will make your skin feel cool and refreshed after a long day in the heat. The plump texture wraps around your skin for a pleasant care.
It also contains carefully selected moisturizing ingredients that approach summer skin that is sticky on the surface but parched from UV rays and air conditioning damage. Cucumber extract moisturizes the skin and collagen keeps it in place.
The moisturizing wrapping effect locks in all the moisturizing ingredients, so just apply it after your nighttime skincare routine and go to sleep. The next morning, your skin will be glowing and smooth with moisture.

How to use

Apply to face and neck once or twice a week at the end of your nighttime skincare routine, and go to bed.
Use about 1 cherry for the entire face, or about 1.5 cherries for the neck.
The quantity of Night Time Pack Ryo Bijin 2020 is limited. It will be discontinued as soon as the stock is gone. Please understand when it is sold out.
We apologize, but we do not have any samples.

Ingredients

No fragrance, no colorant, no oxidizing oil, weak acidity.
Cucumber extract*1 = Plant-based moisturizing ingredient that provides moisture
Cucumber extract*1 = Moisturizing botanical ingredient ●Collagen*2 = Moisturizing and protective ingredient that protects and retains moisture

*1 Water, BG, cucumber fruit extract *2 Water, water-soluble collagen

1 Water, BG, Cucumber fruit extract *2 Water, water-soluble collagen *Allergy tested = Not all people are allergic to this product.