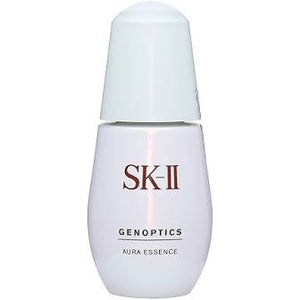 SK-II's new whitening serum, made possible by innovative skin science. It suppresses the production of melanin, prevents the formation of blemishes, and leads to aura whitening skin that glows from within and forgets about blemishes.

SK II's new "GENOPTICS" series is born!

A serum that leads to clear and bright skin that makes you forget about cloudiness.

SK-2 has further researched the damage caused by ultraviolet rays, which affects the ideal aura skin.

We have focused on three skin tone problems. This product focuses on three different skin tone problems to help you achieve a beautiful aura of radiant skin from the inside out without worrying about cloudy skin.

Directions for use

After applying lotion, dispense an appropriate amount (one dropperful, about 2cm in diameter) onto the palm of the hand and spread over the face, blending thoroughly.
For areas of concern, apply in layers and dab in lightly with fingers.