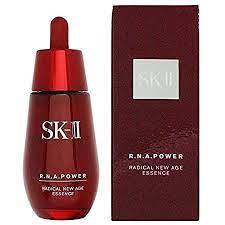 This anti-aging serum is formulated with R.N.A. Complex x concentrated PiteraTM and locust bean extract. This serum leads to clearer skin with less pores and more elasticity. It has a rich yet light texture that moisturizes and plumps the skin. It reduces the appearance of pores and other surface roughness, and makes the skin glow as if it is flooded with light from within.

For women who wish to have beautiful skin not only now, but also in the future.
The SK-II RNA Power Series is designed to give you new elasticity and change your destiny.

The thick, milky, dense essence moisturizes and plumps up the skin, making it feel finer and more supple.
The result is a bouncy, lustrous skin without pores that looks confident from any angle.
It regulates the skin's natural functions and leads to clear and transparent skin.
The pleasant fragrance will help you relax and care for your skin.