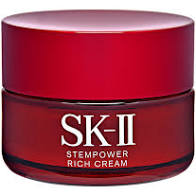 This beauty cream is specially formulated for elasticity and helps to improve the skin's firmness and reduce the appearance of pores, even under environmental stress. The more you use it, the more it will continue to moisturize your skin, leading to firm skin that seems to spring up from deep within. Contains a high level of skin conditioning ingredients that help improve the skin's resistance to harsh external conditions while conditioning the stratum corneum. In a short period of time, it helps to achieve skin that is firm, moisturized, and even-toned. The rich, thick texture blends seamlessly with the skin, leaving it smooth and supple.

Approaches skin concerns. For a firmer look.

Responds to multiple signs of aging*1 as if it were bouncing back. With each use, the skin becomes firmer and firmer. Contains skin-conditioning ingredients. Contains skin conditioning ingredients that condition the stratum corneum, leading to skin that remains moisturized even in harsh environments. Contains SK-II's original natural fragrance.

Directions for use

After conditioning the skin with milky lotion, take a pearl-sized amount and spread it over the face.