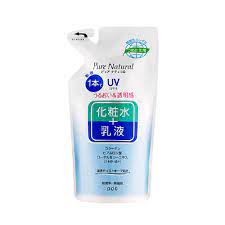 Moist-keeping formula of lotion and emulsion
A combination of moisture (lotion) and oil (milky lotion) in one formula keeps your skin hydrated and moisturized.
Moisturizes and clarifies your skin.
Moisturizes even in the stratum corneum to maintain elasticity and transparency of the skin.
UV protection (SPF4)
Helps prevent sun spots and freckles.
Directions After cleansing your face in the morning or evening, dispense an appropriate amount into your hands and gently blend into your skin.