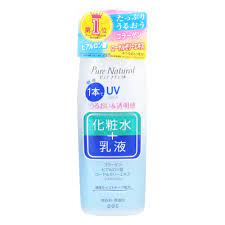 After washing your face, you only need this one lotion! This lotion is a combination of lotion and milky lotion with UV protection.
Contains marine collagen, hyaluronic acid, and royal jelly extract (moisturizing ingredients).
Fragrance-free and colorant-free.

2016 Spring/Summer Snoopy Design Now on Sale!
A limited-edition design only available now!
Please note that quantities are limited and may be sold out.
Please be forewarned.

Gentle on the skin
The "penetrating moist-keeping formula" moisturizes from deep within the skin (stratum corneum).
The lotion quickly penetrates deep into the skin (stratum corneum) and the emulsion locks in the moisturizing ingredients on the surface of the skin to protect it for a long time, resulting in long-lasting moisture!

Human-friendly
Available in a mini size that can be carried on international flights!

Earth-friendly
We start with what we can do to help the environment.
Renewal in August 2013 to save resources!
The amount of resin in the bottle has been reviewed and we have succeeded in saving about 17% of resources!
Refill and mini-size bottles are also available.
Refill and mini sizes are not resource-saving.

Directions for use

After cleansing your face in the morning or evening, dispense an appropriate amount (about the size of a 500 yen coin) into your hand and gently blend into your skin.