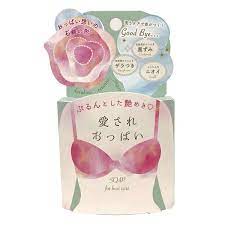 The most important care for beautiful breasts is to wash them. You can make your boobs plump and shiny by taking care of proper washing.
The shape of the soap is designed for boobs.
(1) Directly cares for the top of the breasts, where dirt tends to accumulate, by washing with soap.
(2) Easy-to-foam structure for gentle and fluffy washing of delicate areas.
No parabens, no mineral oil, no alcohol, no legal dyes.
Contains natural ingredients to combat blackheads and roughness caused by sebum buildup and odor caused by unevenness.
A sweet and comforting "sugar rose" scent from the home of perfumery.