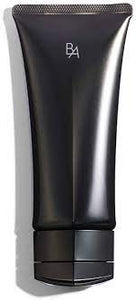 Gently removes make-up with a cream that melts on the skin for a glossy cleansing experience.

With a smooth, beauty-oil-like texture, it melts on the skin and gently and quickly removes even hard-to-remove waterproof makeup and dirt. Gently and quickly removes waterproof and hard-to-remove makeup and dirt, leaving your skin rich and shiny.

Floral woody scent.
Allergy tested (not all people are allergic to this product)
Approx. 100 days supply
Washable

Sensor cleansing function for moisturized skin
The sensor cleaning function removes makeup and unnecessary sebum from the skin's surface while leaving behind the intercellular lipids of the stratum corneum, the skin's moisturizing component. After cleansing, the skin is moisturized and hydrated.

Contains POLA's original moisturizing ingredients
Contains POLA's original moisturizing ingredients such as EG clear extract, majurum extract, and wujin extract.

Directions for use

Amount used: About 1 cherry

Use the "face" of your fingers to cleanse in a lifting direction against drooping skin.
Place on five points of the face (forehead, both cheeks, nose, and chin) and spread over the entire face from inside to outside.